OUT COMES WOMAN – Workshop sul Bi-Pride con Monique Charangopunk Mizrahi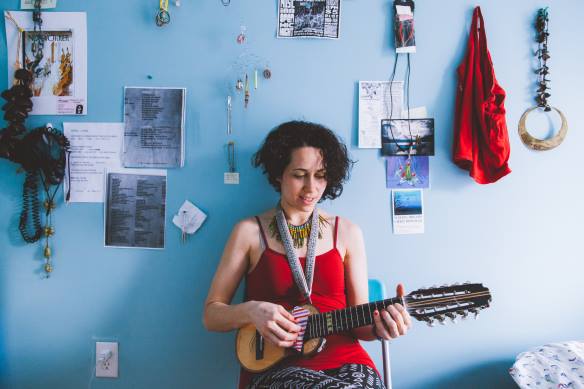 Le organizzazioni LGBTI dell'Alto Vicentino hanno il piacere di ospitare l'artista newyorkese Monique Charangopunk Mizrahi che in questi giorni è in tour in Italia con la sua band gli Honeybird & the Monas.
Appuntamento alle ore 18.30 presso il C.S.A. ARCADIA in Via Lago di Tovel n. 18, 36016 Schio (VI).
Alla carriera musicale Monique ha affiancato il suo impegno per la comunità LGBT e in particolare con il movimento bisessuale con il quale s'identifica.
Approfittando della tappa veneta del suo tour abbiamo chiesto a Monique di tenere un incontro/workshop sulle recenti dinamiche del movimento bisessuale negli Stati Uniti ed in Italia, paese che Monique conosce molto bene.
Il workshop è aperto a tutt* coloro vogliano ascoltare le lezione e la testimonianza di questa attivista che ha saputo trasfondere il suo impegno nella sua opera di creazione musicale.
Qualche dato biografico di Monique Charangopunk Mizrahi:
Monique è una musicista polistrumentista, un bassista, suona il charango (strumento sudamericano a 10 corde), cantautrice ed un educatore e attivista LGBT.
Dalle sue radici in California all'amore precoce per il punk, che la portano a vivere un viaggio e un'esperienza creativa a Roma e poi a Brooklyn dove ore risiede, Monique ha sempre cercato una forte coerenza con la sua identità.
Come Honeybird si è esibita in tutta Europa e maggio 2015 ha pubblicato un album Out Comes Woman dove racconta l'esperienza del suo coming out.
Il 5 marzo 2016 scorso si ha suonato presso il Museo d'Arte di Brooklyn e nello stesso mese ha dato avvio ad un tour italiano con il suo trio Honeybird & la Monas.
Evento Facebook: https://www.facebook.com/events/762274757237247/
Share the post "OUT COMES WOMAN – Workshop sul Bi-Pride con Monique Charangopunk Mizrahi"